Tomorrow is my only child's first day of first grade.
I could laugh. I could cry. I could ponder his early childhood. The day he was born. How fast he's grown.
How much fun the years have been. How we waited so long for him and how we can't imagine life without him now.
Lots of parents, grandparents, aunts, uncles and friends are thinking such things about their kids this time of year.
So, since many of you are already doing that, let's do something different.
Let's think about puppies. Cute, but it's not working.
How about ice cream. No.
Asparagus. No.
Chips and salsa.
Oreos.
Steak?
No, no, no. Exit the food section.
Republican hopefuls for 2012. Ugh.
The Cardinals.
The weather.
Shoe shopping.
Fall sweaters.
Soap.
Bubbles.
Tears. Tears. Tears.
My friend Jenn calls this the emotional roller coaster of raising children.
Another friend Kaisa once offered this sage advice: Children are like the ocean. Go with it or you'll drown.
So here we go. Forward march in the constant exercise of trust. God, help us. Here we go.
You will guard him and keep him in perfect and constant peace whose mind [both its inclination and its character] is stayed on You, because he commits himself to You, leans on You, and hopes confidently in You. Isaiah 26:3 AMP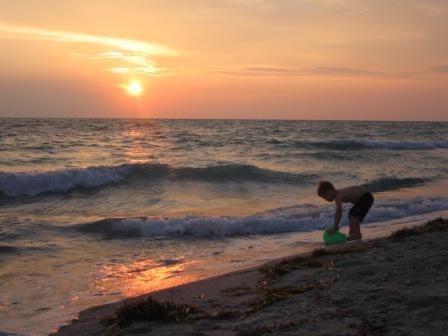 Put yourself in a time out to savor the perfect back to school song. I Can Tell That We Are Gonna Be Friends by The White Stripes.