I hate cancer. You do too? Funny how things come together in social media.
Inspired by And Cuisine for All, our masthead went pink this month to support Breast Cancer Awareness. Then I noticed the Versatile Blogger button on Life is a Bowl of Kibble and discovered Jeffrey Miskell who designed it. Decided I needed a button too. Asked around my blogging friends, tapped into picnik.com and voila! Created my first button-badge-image widget.
Introducing Pink October. A small, defiant fist raised in the face of cancer.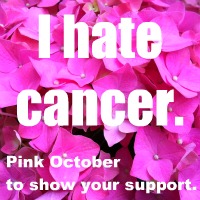 I invite you to use this button in your social media this month. Copy and paste it on your blog or website to honor survivors, those battling cancer, and those who've lost loved ones in the fight. Pray for an end to all cancers.
I'm serious. It's free for the taking. Grab it here, use at will, and pass it on.
In all these things we are more than conquerors through Him who loved us. Romans 8:37 NIV
Now by Your grace I stand. Healing is in Your hand…