Darin Grimm picked a story I was afraid to publish.
The subject has torn our country apart. We cannot seem to settle it. The night before this story ran, I recited Psalm 56:3 to myself so I could sleep.
Who would have dreamed Darin, a farmer and president of AgChat Foundation, would be a fan of this post?
"It takes a VERY devisive topic, and presents it in a compassionate way," he said. "A way that I saw shared by a couple of people that I'm pretty certain see this issue differently than you do."
There are more stories brewing that scare me. But this one was first.
Darin's Reader's Choice is:
Whisper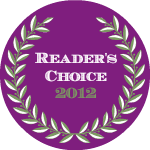 One month from now, January 22, 2013, will mark 40 years since Roe v. Wade legalized abortion in the United States.